Memorial Service for our beloved Rev. Elizabeth Gillett – November 11th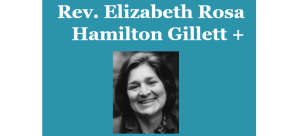 Dear Friends,
On September 20th we lost our dear Reverend Elizabeth, our chaplain and friend. Services will be held at St. Thomas' Church on November 11, 2023 at 10:30 a.m. – 12 1/2 Madison St, Hamilton, NY 13346.
Rev. Elizabeth Hamilton Gillett Obituary
The Rev. Elizabeth Gillett of Hamilton, NY died of cancer on September 20, 2023 at UHS Wilson Medical Center in Johnson City, NY. She was 78. She was born on September 11, 1945 in Sutton, England, and spent her early childhood in Bechuanaland (now Botswana), Canada, and Australia, where her father did medical work before immigrating to the U.S. Her mother, Monica M. Gillett, her father, Dr. James Anthony Gillett, and a brother, Antony W. H. Gillett, predeceased her.
Elizabeth graduated from Columbia University and The General Theological Seminary in New York City. She was ordained as a deacon in the Episcopal Diocese of Maryland in 1983 and as priest in 1984. In 1985, she moved to the Diocese of Central New York to serve as Canon at St. Paul's Episcopal Cathedral in Syracuse. From 1988 to1998 she was rector at St.Thomas Episcopal Church in Hamilton, NY. She returned to Baltimore to serve as the Director of Episcopal Community Services of Maryland until 2004.
She retired from full-time parish ministry in 2010, but continued to minister in various parishes in Central New York. She served as chaplain at St. Margaret's Ecumenical and Retreat Center in New Hartford, NY since January 2020, and as a supply priest, at Church of the Epiphany in Sherburne, NY. She was a Friend of Emmaus House in Utica, NY, and an Associate of Holy Cross Monastery in West Park, NY.
Elizabeth will be remembered for her warmth and generosity, and her devotion to parishioners and community members from all walks of life. She reached out to local quilters to make quilts for all the beds at Emmaus house. She was a spiritual friend of deep insight and devotion, and had a sense of fun and adventure that sometimes surprised people. Through her retreats, bible studies, and formal and informal conversations, she challenged individuals to think, question, and put their faith into action. She was a source of strength, inspiration and encouragement to persons going through difficult times or medical procedures. She was greatly loved and is deeply mourned.
Elizabeth is survived by her husband, The Rev. Dr. John F. LaVoe, his son Mark C. LaVoe and stepson Terrence D. Lewis (Sandra); her sister Kathryn Gillett Hasard, nephew Christopher McNell and his children, Kyla McNell and Sean McNell; niece Collette McNell and her daughter Marley Mikowicz; her sister Susan M. H. Gillett; sister-in-law Lee Gillett, her sons Nicholas Gillett (Yvonne) and Andrew Gillett (Marina) and his children Giuliana and Sebastian Gillett.
A Memorial Eucharist will be held at St. Thomas Episcopal Church in Hamilton, NY on November 11, 2023 at 10:30 a.m., followed by a reception in the church hall at noon. Interment will be at the columbarium of Holy Cross Monastery. In lieu of flowers, please consider a donation in her memory to Holy Cross Monastery, to St. Margaret's for Emmaus House, to St. Thomas Episcopal Church for the Memorial Garden Fund, or to the Friendship Inn food program, in care of St. Thomas's.
A Livestream of the Memorial Eucharist can be found at the following link:
https://my.gather.app/remember/rev-elizabeth-rosa-hamilton-gillett
To plant trees in memory, please visit the Sympathy Store.
Obituary published on Legacy.com by Burgess & Tedesco Funeral Homes Inc – Hamilton on Sep. 22, 2023.
View All News Listings